Number 4½ Plane Type Study

NUMBER A4.1/2 plane Study.
These planes were issued at 10.1/4" long and 2.13/16" wide and again had no slant to the heel on the base.
The A 4.1/2 plane differs somewhat from the number 4 in this study because, as suspected, it was introduced later in WS plane history.  My study can only draw on the 5 planes of this type that I have, and therefore is subject to revision as further examples or information becomes available.
Here are what I find are the major differences between #4 and #4.1/2 planes:
ALL number A 4.1/2 planes were labelled (cast in) as No A 4 1/2 in front of the knob.   There were no No 4. 1/2 planes (ie without an 'A' configuration)
ALL A 4.1/2 planes had the brass lever cap rounded over at the shoulder, as opposed to the straight cut off aspect of the No. 4 lever cap   ( see A4.1/2 below on the left)

Look out for Lever Cap Type 4b (LC4b) [see 'Analysis of Components']
The Brass Lever Cap also only has 2 window panes showing on the reverse side, as had all planes other than #4 and #5: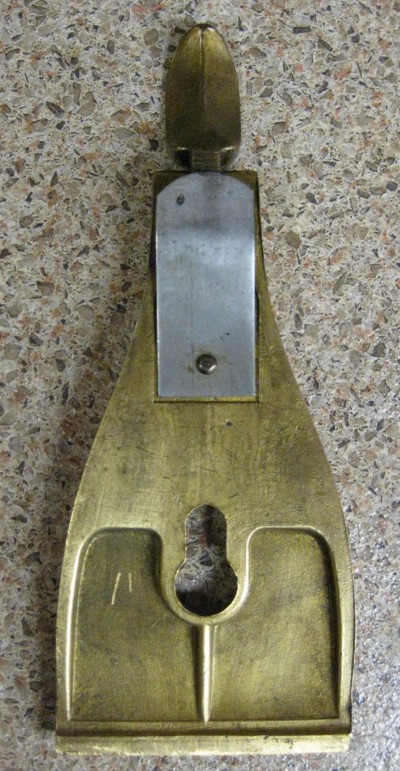 Unlike most of the other 'larger' bench planes, I am unable to confirm that this size plane was ever issued with an F1R frog having an L2 Lever, but given the evidence of the other planes, it would seem that this should have occurred.
The base markings all appear to be the same and approximate to Type 4 of No.4 type planes  with a large WS behind the frog and large letters to BIRMINGHAM  and ENGLAND. (below)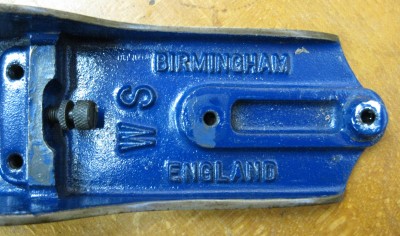 Rear handles seem to be only of the type 2 or 3 , and it is hard to distinguish the difference since they were engineered differently to the number 4s  because of the elongation of the 'toe'  to incorporate a front hold down bolt [see below].  This bolt was a Round headed chamfered brass bolt having a corresponding pressed brass chamfered washer.  (below)
Toward the end of WS plane production, somebody in WS theorized that this larger width plane would carry a larger load against the frog and these planes were then produced with steel frog bolts having a total diameter of 7.5mm (cf 6mm as normal).  These bolts came accompanied by extra large steel washers having a diameter of 19mm.  The picture below shows the larger bolt on the left.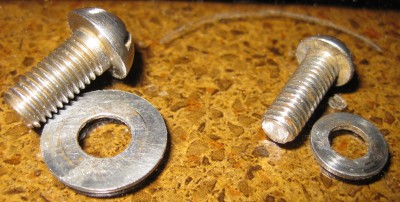 They also seem to have experimented with various size threads on other parts of the plane.  I have one plane that has the large 7.5mm frog screws,  6mm rolled threads at both ends of the handle rod, but a 6mm cut thread at the top of the knob rod and a 6.5mm rolled thread on the bottom of the rod (that goes into the base)
BOX AND LABEL:
The A4.1/2 box lid was 15cm wide  x  27cm long  x  7cm deep and the label measures 13.5cm  x  5.8cm